---
Search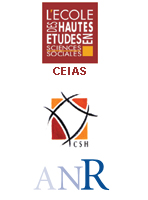 ---
Home page > Research Teams

Research Teams
SETUP project is bringing together 18 international scholars specialized on urban issues in Brazil or Indian fields. This interdisciplinary team has been set up to investigate through a diversity of approaches and data-processing methods: qualitative field studies, collection of statistics, processing of satellite imagery, use and production of maps and analysis of the corpus of laws.
Maintaining urban territory is undoubtedly a challenge. By "territory" we do not mean merely a geographically and/or administratively demarcated space but also a social space that is appropriated, lived in and constituted in its existing form by its inhabitants. Slum areas, summarily defined according to the criteria of illegality and insalubrity, have grown ceaselessly, as a result of which, on an average, more than a quarter of the population of the four megacities under study lives at present in legally disputed areas where housing and hygienic conditions pose severe problems. On the periphery of the city, zones occupied without prior planning define spaces characterised by distance from the centre, poverty (in spite of the existence of affluent housing developments) and ecological degradation (that could even threaten the working of the urban system). Due to the magnitude of this many-sided process, public policies tend to respond in a more or less concerted manner.
The main domains of action on which our study will focus are:

Planning of urban and peri-urban territory: policies related to environment and improvement of "slum areas" involve legal action (redefinition of property rights for instance), financial measures (development of micro-finance) and development programmes (cultural and social inclusion policies).

The ecological problem: the dilemma between safeguarding the environment and the rights of the poor to housing gives rise to numerous disputes which in their turn give rise to new legal thinking on the matter. Can the right to housing endanger private property and public goods? Are water and biomass reserves, necessary for the functioning of the city, threatened by encroachment by the poor or also the rich?

The social problem: urban segregation, both a process and a result of the logic of differentiation, deprives certain groups of access to public services. The Brazilian social sciences dealing with the urban world perceive the question of inclusion in the city as a citizenship issue (Telles, 2001 ; Kowarick, 1979) and the notion of exclusion is replaced by the notion of vulnerability in the sense of a lack of social, economic and civil protection. In both the countries, the problem is even more complex because exclusion is based on paradigms that are not only economic (poverty) but also ethnic (low castes in India, Blacks known as Pretos in Brazil) – and even linguistic and regional (in-migrant populations).
India and Brazil, urban and peri-urban, segmentation and territory, housing and environment – all these issues will not be clubbed together. Only by relating them and highlighting their articulation will it be possible to make sense and chart an innovative course for our research. Hence the need, in order to avoid excessively general studies, to select issues that are both accurate and limited in number to deal with the complexity of the megapolitan fabric. We have therefore selected two, which will enable us to reach an optimal mix of perspectives.
MAIN COORDINATOR :

M.C. Saglio-Yatzimirsky
JOINT COORDINATOR :

F. Landy
SCIENTIFIC & ADMINISTRATIVE SECRETARY :

P. Chapelet
SLUM TEAM :

N. Bautès (coordinator India-Brazil)


M.C. Saglio-Yatzimirsky


V. Dupont


M.C. Belle


U. Ramanathan


R. Soares Gonçalves


M. Virginia de Souza
Collaboration with FACI (UFRJ Rio):


Maria de Fatima Cabral Marques Gomes


Lenise Lima Fernandes.
FOREST TEAM :

F. Landy (coordinator for India)


N. Aparecida de Mello (coordinator for Brazil)


E. Bon


B.Correia


A. Lucchiari


U. Ramanathan


W. Ribeiro


H. Théry


M.H. Zérah
Consultant :


L. Lezy Bruno
Master students :


D. Vaquier


M. Pollet


C. Vain
Assistant Researchers :


K. Tiwari
---