---
Search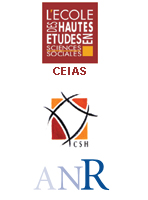 ---
Home page > Ressources > General Bibliography
General Bibliography
General:

DUPONT, V. (ed.), 2005, Peri-urban dynamics: population, habitat and environment on the peripheries of large Indian metropolises, CSH Occasional Paper 14, New Delhi, CSH, 144 p.


Dupont, V. & Heuzé D.G. (dir.), 2007, La ville en Asie du Sud. Analyse et mise en perspective, Purusharta n°26, Paris, EHESS.


A. & LAUREN ROYSTON, L. (ed), 2002, Holding their ground. Secure land tenure for the urban poor in developing countries, Earthscan, London.


PH. GERVAIS-LAMBONY, F. LANDY et S. OLDFIELD (ed.), Reconfiguring Identities and Building Territories in India and South Africa, Manohar-CSH, Delhi, 2005, 346 p.


NAVEZ-BOUCHANINE Francoise (dir.), La fragmentation en question: des villes entre fragmentation spatiale et fragmentation sociale, Paris, L'Harmattan, 2002, 411 p.


UN-HABITAT, BackgroundReport on Sustainable Human Settlements Development and Management, New York, 2004, 69 p. (www.unhabitat.org/csd/documents/main.pdf)
Sub-project 1 "Slums":

CALDEIRA, T., Cidade dos Muros – Crime, Segregacião e Cidadania em São Paulo, Edusp, 2000


DUPONT V. & RAMANATHAN U., " Politiques de "nettoyage" et d'embellissement de la capitale de l'Inde, ou du traitement des slums à Delhi " in DUPONT, V. & HEUZE, G. (dir.), La Ville en Asie. Regards comparés avec d'autres régions du monde, coll. Purusartha, No 26, EHESS, 2007.


DINIZ, E. & VALLADARES, L., "Nouvelles formes d'Intervention dans les favelas. Le cas de Rio de Janeiro" in Haumont N. & Marie A. (orgs.), Stratégies Urbaines dans les pays en voie de Développement. Politiques et pratiques sociales en matière d'urbanisme et d'habitat, L'Harmattan, Paris, 1987


FERNANDES, Edesio, Law and Urban change in Brazil, Avebury, Aldershot/England, 1995, 182p.


KOWARICK, L (1979), A Espoliacão Urbana, Rio de Janeiro, Paz e Terra, Estudos Brasileiros 44, 1979


ROLNIK, R., Reestruturarão Urbana da Metrópole Paulistana : Analise de Territórios em Transicão, Relatório de pesquisa, PUC-Campinas/ Fapesp, 2001.


SAGLIO-YATZIMIRSKY, M.C, 2002, Intouchable Bombay, le bidonville des travailleurs du cuir, CNRS Editions (coll. Monde Indien), 326 p.
Sub-project 2 "Forest":

CARLOS, Ana Fani A. e OLIVEIRA, Ariovaldo U. (orgs). Geografias de São Paulo. Representacão e crise da metrópole. São Paulo: Ediotra Contexto. Vol. 1, 2004.


SARAIVA, Camila e MARQUES, Eduardo. A dinamica social das favelas da RMS. In http://www.centrodametropole.org.br/pdf/favelas_edu/pdf. [acesso 24 novembro 2005]


SARTORI, Giovanni. Método comparativo e política comparada, in A política. Lógica e Método nas ciencias sociais. Brasília: Editora UnB, 2a ed., 1997.


SUNDAR, Nandini, JEFFERY, Roger, THIN, Neil, 2001 - Branching out. Joint Forest Management in India, Oxford University Press, New Delhi, 289 p.


ZERAH, Marie Hélène, "Conflicting stakes over land use: Can protection of environment be reconciled without housing requirement? The case of Sanjay Gandhi National Park in Mumbai", Cities, forthcoming.
---